Product Description
This is our print version of the Tea Times! This printed volume contains the first 3 Tea Times newsletters (February, April & June 2012). The Tea Times newsletter is a home eco­nom­ics newslet­ter for moth­ers and daugh­ters. Pro­duced to enhance the rela­tion­ships with your daugh­ters, it's meant to be read/done together.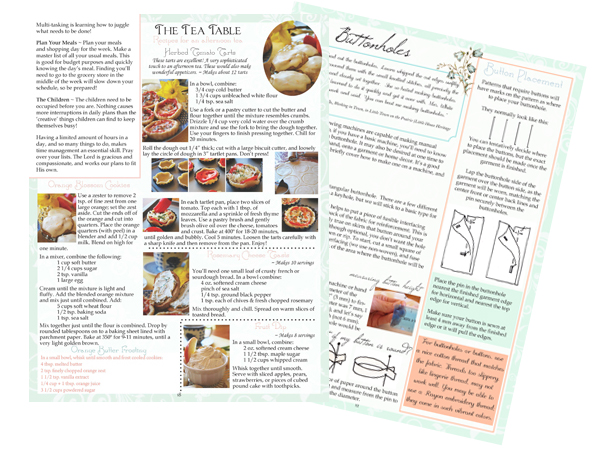 Features include: Learning specific homemaking skills with your daughter Sewing-Baking/Cooking-Gardening-Using Resources Wisely & More Growing a Godly young lady Tea time recipes for fellowship and more An accom­plished young woman can cook, clean, sew, man­age a bud­get, school her chil­dren, and make her home beau­ti­ful, all because she prac­ticed keep­ing home before she had her own. Join us!
This Volume Includes:
February Issue:
Teaching Girls to Trust God's Word

Embroidery Part I

The Kitchen Corner: Technique – Jelly Roll

Tools & Staples – Measuring, Flour & Raising Agents

The Tea Table – Recipes
April Issue:
Teaching Girls Courage

Embroidery Template Part II

The Kitchen Corner: Technique – Muffin Making, Vegetable Muffins

Sewing Buttonholes

Tools & Staples – Using Fats & Sugar

The Tea Table – Recipes
June Issue:
Teaching Girls Provision

Kitchen Corner: Growing Herbs – A Kitchen Garden, Making Spice Blends; Cooking Dry! Beans and Other Legumes

Easy Bed Coverings on a Budget

Our Sewing Table – Sewing Hems

The Tea Table – Recipes
If you would like digital copies of issues 1-5, you can purchase them here - Digital Tea Times
Product Reviews
This product hasn't received any reviews yet. Be the first to review this product!
Customers also viewed